James Hardie Siding in Tulsa
Appeal & character that shows by having James Hardie siding for your Tulsa home.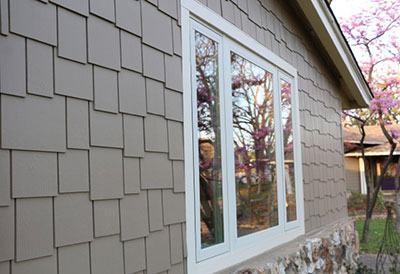 If you would like the look of wood siding without the upkeep and expenses associated with it, James Hardie siding is a great choice for home siding in Tulsa.
James Hardie siding is composed of cement, sand, and cellulose fiber, giving it outstanding sturdiness and dimensional stability. As a result, it is unrivaled in its ability to endure the weather, including wind, rain, snow, ice and sun. Its durability, charm and sturdiness blend to make James Hardie siding fundamentally the ideal siding for enhancing and protecting homes in Tulsa and the surrounding area. Ask us about "Color Plus" technology from James Hardie siding for your Tulsa home. It's a great way to add color to your home siding in Tulsa.
Among its other attributes, James Hardie home siding:
Is perfect for cold, windy climates – James Hardie siding for Tulsa homes can stand up against the negative effects of temperature ups and downs in cold weather locations. In contrast to some other siding products, fiber cement does not become weak in cold climates. Fiber cement siding can even be installed to resist hurricane-force winds.
Holds up in rainy, humid locations – James HardiePlank siding for Tulsa homes can withstand decaying and cracking, even in really humid regions. In contrast to some other house siding materials, fiber cement siding does not widen and shrink under humid conditions.
Withstands impact damage – James Hardie Tulsa house siding is significantly thicker than other types of home siding. This density, combined with inherent strength of its materials, makes fiber cement exterior siding strong enough to resist impact damage attributable to rain and hail.
Is fire resistant– James Hardie home siding is non-combustible and attains the highest possible flame spread rating. Fiber cement home siding is accredited for fire-rated construction.
Resists pest damage – Though it looks like real wood, it's not, so James Hardie exterior siding resists damage from harmful termites and various wood-eating insects.
Plus – Color Plus technology from James Hardie offers great options.
Start dreaming and customize your home's look at the James Hardie Design Center.
Design Center
Contact the James Hardie siding contractor in Tulsa, Tulsa Renew today for a free estimate on James Hardie Siding for your Tulsa home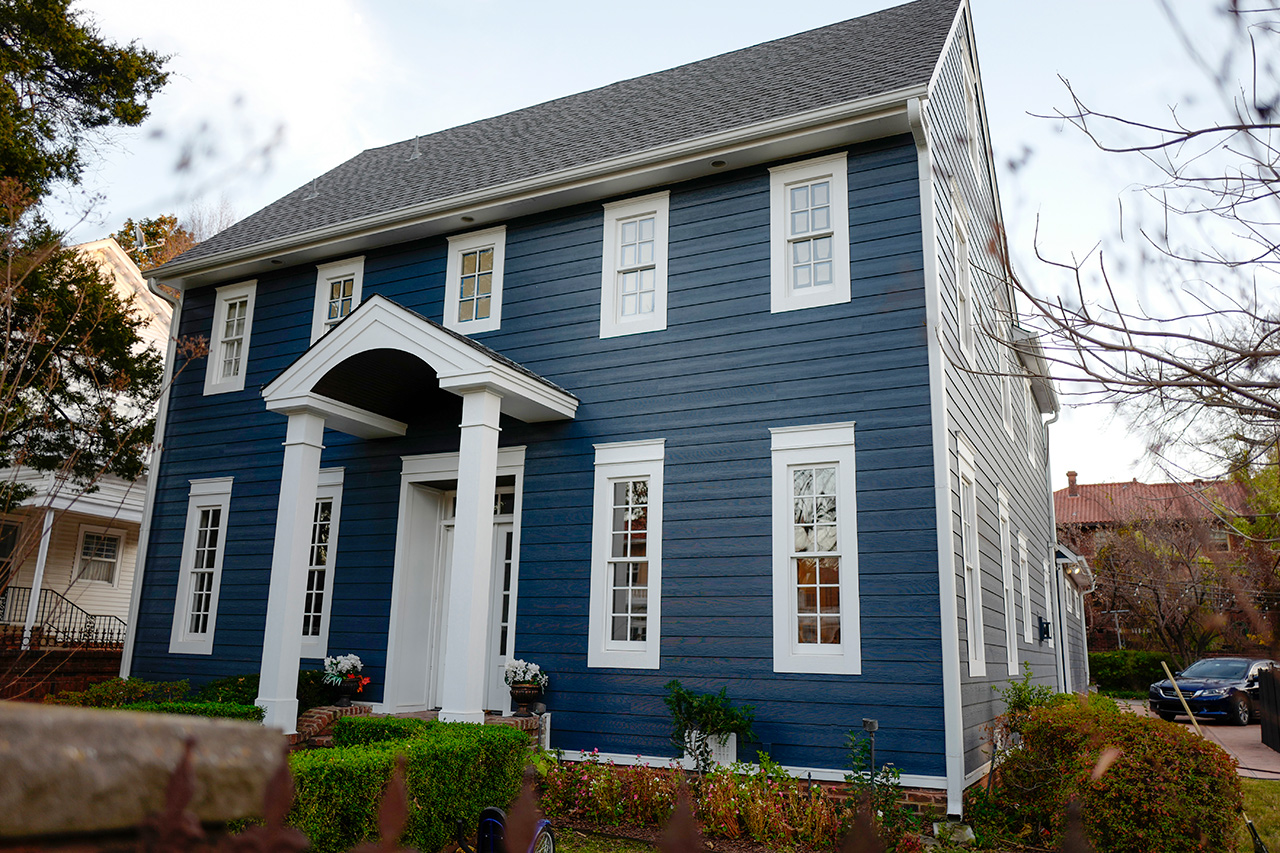 FAQs about James Hardie Siding Products
We'll be happy to answer any questions you may have about siding and windows. Feel free to contact us or call 918-960-1639. For your convenience, here are a few of our most frequently asked questions about Hardiplank Replacement Siding and Tulsa Renew:
What is the composition of Hardiplank® Siding?
Only the finest raw materials are used for Hardiplank. Premium cement, finely-ground sand, natural cellulose (wood) fibers, and water are combined and cured through a proprietary manufacturing process into the most durable siding material on earth.
How long has James Hardie been around?
James Hardie® Industries was founded in Australia in 1888 and began selling fiber cement products in 1903.The company opened its first U.S. manufacturing plant in Fontana, California, in 1989. Hardiplank is now manufactured in eight plants in the U.S.–two are in Texas–and has been installed on over 3 million homes in this country.
Once Hardiplank is installed will I ever have to paint it again?
No. Tulsa Renew installs Hardiplank with factory-applied Prime PlusTM primer, which is a light yellow color. After installing the Hardiplank, we apply a high performance coating, available in any color you choose within the parameters of your homeowners' association. The coating is guaranteed by the manufacturer not to peel or blister as long as you own your home.
What is the size and shape of Hardiplank?
Hardiplank consists of 12 ft. long boards that come in various styles and widths. Most of what we install is 8 1/4? wide, which provides a 7? exposure. This size is the choice of homeowners for 90 percent of our siding work. Hardipanels are 4 ft. x 8 ft. sheets.
Does Hardiplank comply with homeowners' association restrictive covenants?
Each homeowners' association has a different set of restrictive covenants, but all of our clients have received approval for Hardiplank installation. If your home currently has siding on it, chances are excellent that Hardiplank will be accepted. Tulsa Renew communicates with the homeowners' association on behalf of each of our clients to coordinate the approval process.
Is Hardiplank resistant to mold?
Yes. Hardiplank is sealed to keep out moisture. The coating has mildicide in it to protect against mold growth. If dirt is splattered against the coating and mold grows on the dirt, the coating cleans easily with water from a garden hose.
How is Hardiplank installed and how long does it take?
An underlayment to protect against moisture infiltration is applied first to the exterior of the house, then the Hardiplank is nailed on top. The installation process usually takes 5 to 7 working days. Applying the coating usually takes 3 to 5 working days. These are only averages; it all depends on the size of the job.
Is Hardiplank installed on top of my existing siding?
For two out of three homes, we do install Hardiplank on top of the existing siding, if the siding is in good condition and the surface is flat. If the existing siding is too soft or has rotted, then it has to be removed.
What is the warranty?
Hardiplank has a 50 year warranty from the manufacturer and the coating has a warranty for as long as you own your house. Tulsa Renew guarantees labor for 10 years on the siding and 5 years on the coating.
Is the weight of Hardiplank an issue?
Absolutely not. Hardiplank weighs 2.3 lbs per square foot. That is about the same weight as 5/8? thick Sheetrock. Hardiplank is installed on load-bearing walls. It has been installed on over 5.5 million homes and the weight of the product has never been an issue.
What is the advantage of Hardiplank compared to vinyl siding?
Only Hardiplank provides a lifetime solution to your siding problems and gives your home the look and feel of real wood. It has excellent durability and will not rot, warp, or burn. It is dimensionally stable and it will not expand or contract like vinyl siding. Tulsa Renew has removed vinyl siding from homes and replaced it with Hardiplank.
Should I have my windows replaced when I replace the siding?
It is not necessary to replace the windows when you replace the siding. Window replacement can be performed later due to the retro fit application that should be used when replacing windows on an existing home.
Do you use Hardiplank for siding repair?
Tulsa Renew has a $5,000 minimum for Hardiplank replacement siding projects, so it would depend on how extensive the repairs are.
Do you replace soffits with Hardiplank?
If the soffits are in good condition, we can apply the coating to them to match the new siding. If repairs are necessary, we can create new soffits from HardiSoffit.
On what types of houses do you normally install Hardiplank?
In the Tulsa area, most of our clients own homes built in the 1970s and 1980s. Hardiplank performs best when used to replace existing wood siding or Masonite. It is not available for replacing rock or stucco.
Is Hardiplank resistant to damage from insects and weather?
Termites and other wood-eating insects will not be able to penetrate Hardiplank. The product is also resistant to damage from hail, freezing temperatures, rain, and humidity.
If I install Hardiplank will I be eligible for an insurance discount?
Some insurers allow a fire insurance discount. You should discuss this with your own insurance agent.
Are there any environmental or health concerns associated with Hardiplank?
No. Hardiplank is an environmentally friendly and safe product. It contains no asbestos, glass fibers, or formaldehyde.
Do you have a referral program?
Yes. Anyone who refers a homeowner to us that results in a scheduled appointment and presentation will receive a $50 check from Tulsa Renew. If we earn that homeowner's business and the project is more than $5,000, the person who made the referral will receive a $250 check from Tulsa Renew.