Considering Vinyl Siding for Your Tulsa Home?
See how Vinyl Siding stacks up against Hardie Siding.
While some claim that vinyl siding is the perfect solution, here are 5 things to consider before covering your home in plastic:
The Value of Your Home
Many Tulsa home buyers see vinyl like a cheap cover-up for possible issues. Properties constructed prior to 1940 lose their historic appeal any time their real house siding is covered. When you put up vinyl over wood clapboard or cedar shingles, be aware of other houses in your neighborhood. In the vicinity of historic real estate or trendy residences constructed mostly of solid wood and brickwork, introducing vinyl exterior siding can lessen your residences' charm to potential customers.
Energy Efficiency
Be skeptical of a vinyl siding sales rep in Tulsa that claims lower electricity expenses. Despite having thick expanded polystyrene backing, a vinyl panel is not able to offer significant heat retention. Regardless of the kind of home siding you choose, you really should install extra insulation within the wall structure.
Color
Depending on the quality of vinyl you obtain, assume some fading after five years or so. Time and temperatures may even affect the gloss of your vinyl exterior siding in Tulsa. When a section is broken, the new replacement panel will never be an actual match.
Upkeep
Wood should be painted or stained; vinyl siding needs no paint. Even so, it's not precisely true to claim that vinyl is maintenance-free. To take care of its clean physical appearance, vinyl exterior siding ought to be washed annually. Any wooden window sashes and trim will still require routine painting, and ladders leaning against the home can scrape or crack the vinyl exterior siding.
Durability
Advertising campaigns usually suggest that vinyl exterior siding is everlasting. It is true that vinyl will last many, many years. (That's exactly why it's extremely tough to discard safely and securely.) In extreme weather conditions, however, vinyl is less stable than real wood and masonry. Violent wind will get beneath the thin sheets of vinyl home siding and flip a section right from the wall. Windblown particles and strong hail can puncture vinyl. New advancements are making vinyl siding is stronger and less brittle, but the plastic sheets definitely will nevertheless split or break if struck by a lawnmower or snow-blower. Damage can't be fixed; you will have replace an entire panel.
Here's how vinyl siding stacks up against James Hardie® siding.
Vinyl vs. Hardie Siding – Color Flexibility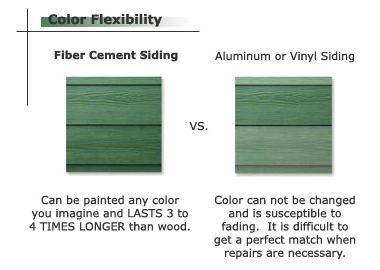 Vinyl vs. Hardie Siding – Fire Resistance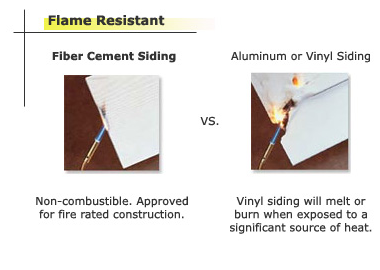 The video clip below shows how recent wildfires in the Tulsa area did not damage the James Hardie siding on this home!
Vinyl vs. Hardie Siding – Weathering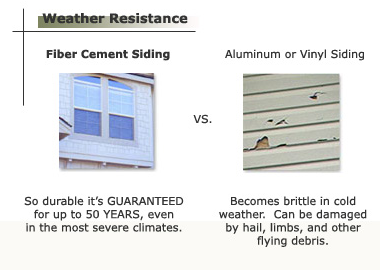 Vinyl vs. Hardie Siding – Thickness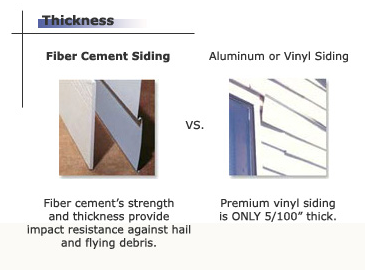 Vinyl (PVC) Dangers:
Blue Vinyl is a documentary profiling the prevalence of vinyl products in society at the turn of the century, and the profound dangers that polyvinyl chloride (PVC) present to those that work in and live near manufacturing facilities of them.