A lot can be said for a great design especially when it comes to the exterior of your home in Tulsa. Siding in Tulsa is a really great way to make your home maintenance free wow looking amazing. Great curb appeal increases the value of your home's worth and with the correct siding installation in Tulsa you can have a project that is virtually maintenance-free forever using
Tulsa Renew Siding Company
.
There is no better company in Tulsa than Tulsa Renew Siding Company to make this happen for you and we would be honored to work for you and your family on your
home siding
project in Tulsa Oklahoma as the best siding company in Tulsa!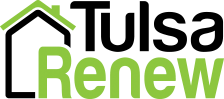 Tulsa Renew has earned the Angie's List
Super Service Awards for the past 7 years.
1209 South Frankfort Avenue.
Suite 103 Tulsa, OK 74120
+ (918) 960 1639