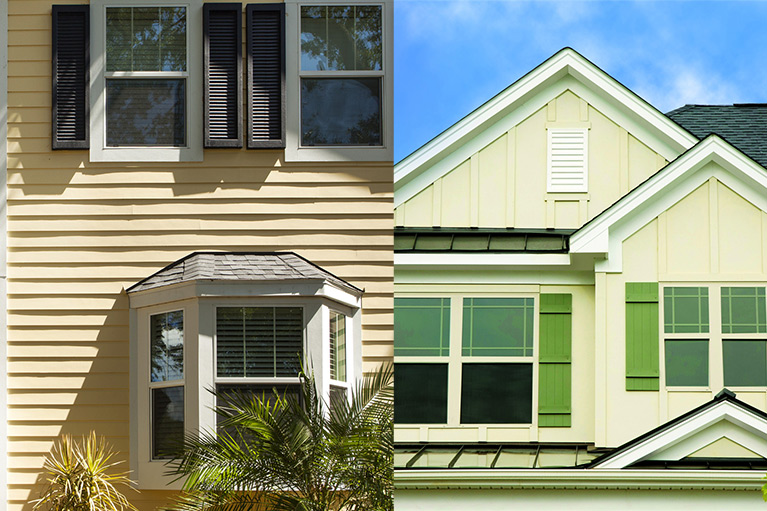 So, you're considering new siding for your home; or, perhaps you're considering building a custom house from scratch. Clapboard siding, or horizontal panel siding, offers a classic and streamlined look that's always in style.
James Hardie's HardiePlank® and HardiePanel® are some of the nation's most sought-after siding choices. But how do you know which one is right for you? Here are 3 things you should consider when making the call.
Whether You Want a Unique or Conventional Look
Chances are, horizontal siding is the predominant type of siding in your neighborhood. Selecting this clean, simple façade may not be the most unique direction to take your home in, but it does have merit. Horizontal siding is beautifully timeless – in other words, you can pretty much guarantee that it will never be considered tacky or outdated.
Still, vertical siding has its draws as well. It's more unique and is bound to catch the eye of anyone walking past, as it stands out in a sea of horizontal siding. However, vertical siding is not so unconventional as to be garish or polarizing – almost anyone would agree that it still offers an elegant and understated flair that would appeal to a wide range of people.
Durability Considerations
Horizontal siding has its benefits and its drawbacks too. Though horizontal planks are durable, they do have the tendency to be more vulnerable to rainwater damage. This is because moisture can build up on the plank edges and drip into the siding strips. By contrast, vertical siding allows water to run right off it.
Of course, HardiePlank®, other brands of fiber cement, and vinyl are all hardwearing materials that are more resistant to water damage and moisture-related mold than wood is. So, if you do opt for horizontal siding, choosing a more resilient siding material than wood can significantly reduce your chances of having issues with rainwater.
Time and Budget Considerations
Horizontal siding is often cheaper and quicker to install than vertical siding. Vertical siding requires a layer of furring strips to be placed first, to ensure the final finish is smooth and well aligned. As a result, it takes slightly longer and can be more expensive. If you're looking for a quick and more cost-effective way to revamp your exterior, horizontal may be the way to go for now.
Of course, it's completely possible to go for a mixed look instead – combining horizontal and vertical siding can result in a gorgeous visual effect. Many homeowners choose to have planks placed horizontally on the majority of the home while vertical boards are saved for the gables or gambrels. Alternatively, you could select another siding type entirely for the accents, such as cedar shakes, shingles, or manufactured stone veneer.
Looking for an esteemed Tulsa, OK siding contractor to work with? Tulsa Renew can help you with all stages of your siding installation. To get started, book a free siding consultation with us today.