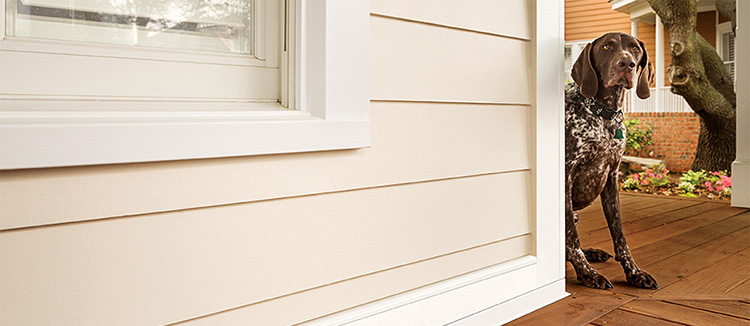 This award-winning siding is the most popular brand of siding in America. With its classic, horizontal paneling, it provides an elegant and traditional look to the curb appeal of any home. HardiePlank® siding is engineered for a variety of weather conditions and climates, including dry and humid regions, giving it a lasting durability no matter where you live, and as a fiber cement product, it is water and fire resistant, requiring less maintenance than other types of siding. Though each panel is designed to mimic the look of natural wood, it does not attract pests in the same manner as solid wood planking. HardiePlank siding comes in a variety of colors and four different style options to provide the perfect look for any style of home.
HardiePlank Styles
Select Cedarmill
The Select Cedarmill was designed to mimic the look of natural wood planks, while also providing durability. Each plank is designed with the same texture and grains as natural wood to give your home the same aesthetic as cedar but without the added maintenance.
Beaded Cedarmill
The Beaded Cedarmill provides the same look and texture of wood as the Select Cedarmill, but affords a beaded edge to the bottom of the plank for added visual interest.
Smooth
Simple, classic, and true to its name, the Smooth Plank provides a clean look to any home, being void of the typical wood grain texture, and instead providing a smooth finish.
Beaded Smooth
In keeping with a simple and flat look, the Beaded Smooth Plank is also void of a wood grain texture, having a smooth finish, while providing the additional visual interest of a beaded edge.
If you desire a traditional and beautiful look for the exterior of your home that can also withstand time and weather, HardiePlank siding is the perfect choice for you!