Best Siding Replacement Contractors in Broken Arrow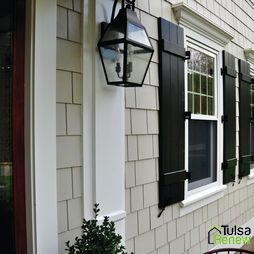 Looking for siding replacement services in Broken Arrow? You are at the right place, then. At Tulsa Renew, we replace and renew all kinds of sidings like James Hardie Siding, Custom Stone Siding, Vinyl siding, etc. You can choose the option you want.
Tulsa Renew is proud to offer superior siding products, including James Hardie® and Custom Stone exteriors. We are the premier Oklahoma Siding Company!
Why Tulsa Renew for siding replacement?
There are hundreds of Vinyl and home siding replacement and installation experts in Broken Arrow. So, you must be wondering: Why choose Tulsa Renew?
Here are the reasons why:
We are premier providers of high-quality
When it comes to services like siding repair, window replacement, door replacement, and spray foam insulation in Broken Arrow – Tulsa Renew has a great reputation. We use high-quality products and the expertise of our team to ensure that our client get an unmatched experience that they remember lifelong.
We remain connected to our roots
Built in the reflection of its proud owner Steven James, a proud Tulsa native with more than a decade experience in exterior renovations industry and a genuine love for the Tulsa metro area – Tulsa Renew is connected to its roots. We love Oklahoma and its natives, and are dedicated to offer them high-quality services. Our business is centred around client satisfaction and we want to offer them nothing but the best.
Our goal to exceed client expectations
Founded on the principles of faith, passion, and excellence – Tulsa Renew strives to exceed client expectations. By staying in touch with our clients, guiding them to make the best decision, finishing their work within the assigned timelines, and offering them the best service – we ensure that our work turns out to be exactly the way you wanted.
What our customers are saying about us
Customers are kings, and their testimony is the verdict of god in business. So, what can be better option than letting you decide after reading these reviews. Here's what they have to say:
"Thank you so much for the wonderful job you did for us. Fantastic work!" – Jackie McGuire
"I could not be happier! It looks like a new house! The project manager was great too!" – Kim Winn
"Steven was great to work with and responded to all my questions quickly. He and his team even reached out with updates." – Ryan Fair
There are a lot more reviews, which you can read here.
So, what are you waiting for?
Fill out this contact form and Steven, the owner of Tulsa Renew, will reach out to you shortly to talk about your project!