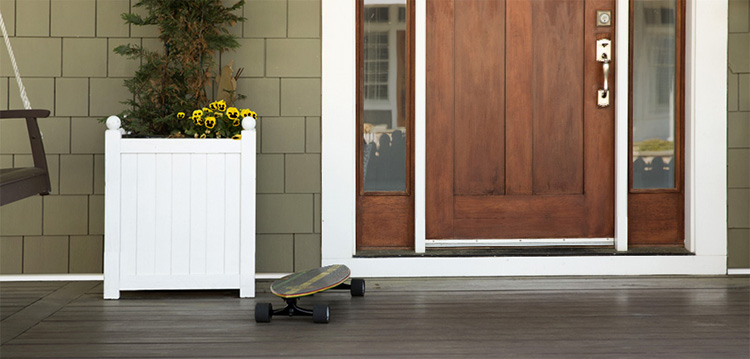 HardieShingle® siding provides the same interest and character as any shingle sided house without requiring the same amount of maintenance or upkeep. Each HardieShingle panel gives the appearance of real cedar shingles with mimicking grooves and grains designed into it, but as a fiber cement product, it is water and fire resistant and does not attract pest in the same manner as real cedar shingles. Each panel is also engineered for a variety of climates and weather conditions, including dry and humid regions, giving it a lasting durability no matter where you live. HardieShingle siding comes in a variety of colors as well as two different style options.
HardieShingle Styles
Straight Edge
The straight edge shingle panel provides a streamline finish and a clean edge to the look of your shingle siding. While the shingled appearance delivers a variety of texture and pattern, the straight edge gives a clean and finished looked to your home.
Staggered Edge
The staggered edge provides texture and dimension to any home. By keeping the shingles from having a finished edge, the staggered effect gives movement and a rustic look to your home's siding.
With the HardieShingle siding you can give your entire house that cottage look or choose to mix the textural elements with the simplicity of the HardiPlank, HardiPanel, or Artisan® siding.
If you are looking to add the perfect amount of character and texture to the exterior of your home, but don't want the hassle that comes from the maintenance and attention required by cedar shingles, then HardieShingle siding is the perfect choice for you!