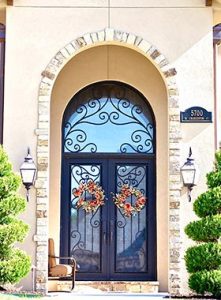 Are you looking for an elegant way to welcome guests to your home? Tulsa Renew installs custom iron doors!
Our very own custom doors are individually forged right in Oklahoma. They blend the durability of iron with the beauty of a sculpture, creating an artistic masterpiece for the entry of your home.
Tulsa Renew offers a wide selection of looks and styles, and every door is completely hand forged–no pre-fabricated iron work here! You can choose the door that perfectly fits your home. If you're not sure what you're looking for, we can help you select the one that's right for you.
Do I want a custom iron door? Here are some benefits to consider if you are trying to decide: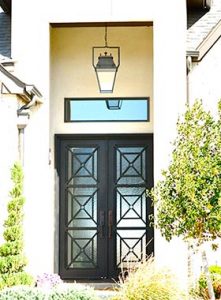 Iron doors add beauty to the entry point of your home. Whether it is a acquaintance or your best friend visiting your home, you'll be welcoming your guest with grace and elegance.
Iron doors are durable. Long-lasting and strong, your iron door will stand up to extreme temperatures as well as heavy winds. It won't deteriorate due to water, and pesky insects will leave it alone.
Iron doors deter trespassers. An iron door is tough, heavy and intimidating to anyone considering breaking in. It's an automatic security feature for your home!
Iron doors generally increase the value of your home. Want to get back a lot of the money you'll be spending? Installing iron doors are often a way to do this.
Iron doors with glass allow more light into your home while continuing to limit the view from the outside. Four types of glass are available for your door, ranging from completely transparent to heavily translucent.
Tulsa Renew has a reputation for high quality work in the Tulsa area, and we consider it a privilege to be able to install exquisite iron doors all over Tulsa. To contact us with questions or to request a free, no-obligation consultation call us at 918-960-1639. We would be honored to help you make your home even more beautiful.