Best Remodeling Investment
Tulsa Renew is the only James Hardie Elite Preferred Remodeler in Tulsa!
Which home remodeling project will give me the best return on investment? This is often the first question homeowners ask when thinking about remodeling their home, because unless you plan to live in your same house forever, you want to know that the hard earned money you put into your home, will result in an increase in your home's value.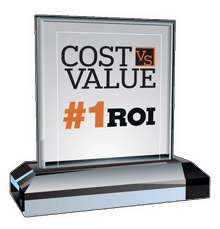 Well for the 8th consecutive year, Re-Siding Your Home with James Hardie® Fiber Cement siding is the #1 Return on Investment. See the full results and report from The Remodeling Magazine 2013 Cost Vs. Value Report.
There are many other projects you can take on as a homeowner, but only re-siding your home with fiber cement siding will give you the best return on your investment.
Residing with fiber cement gives a 25% better return than adding a bathroom and costs $61k less to complete.
Roof replacement remodel gives you a 23% less return on investment than re-siding with fiber cement.
Replacing your windows nets you 7% less return on investment than fiber cement re-siding.
For the past 8 years, siding your home with fiber-cement siding has held the number 1 spot for return on investment on remodeling projects.

Remodeling magazine is the industry's leading home improvement magazine. Since 1988, Remodeling magazine's Cost vs. Value Report has compared construction costs for common remodeling projects with the value they add to a home at resale in the current real estate market. The results – upscale siding projects using fiber-cement siding return the highest value at resale.
Contact Tulsa Renew today for a free consultation on James Hardie Siding for your Tulsa home.