When you get new siding, you're facing heavy expenses and a long construction process. There's a lot of stress involved, and the last thing you want is a poor contractor that will increase the stress.
Unfortunately, not all contractors follow the same code of standards that ensure top-quality workmanship. All too often, homeowners hire a contractor that does poor-quality work with no option of a refund.
Also, some surprising scams have been associated with contractors. Con artists will pose as a reputable siding contractor, but they try to take your money without doing any work. They'll ask for a security deposit or payment up front before starting, and then disappear. Even if the scammer is apprehended, you may not see your money again.
Scams and poor-quality workmanship are no laughing matter, especially if thousands of construction dollars are involved. If you want to ensure quality work that will satisfy your needs, you should ask your siding contractor the following questions.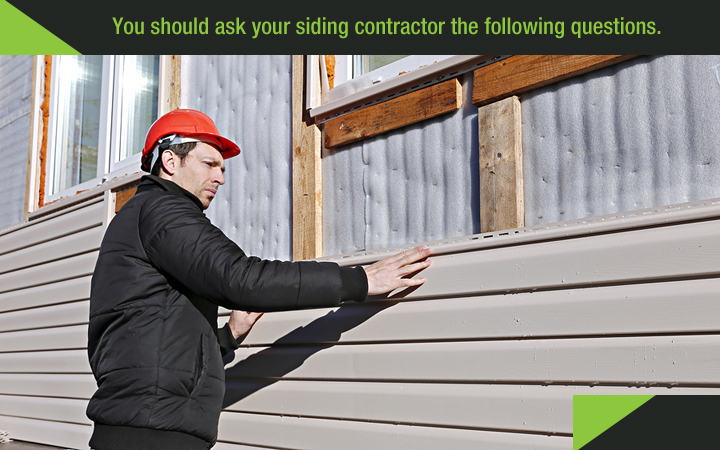 1. Do you install James Hardie siding?
This should be your first question. James Hardie fiber-cement siding is by far the superior choice. It's been selected number one in the U.S. for several years running because it has amazing benefits compared to wood, vinyl, or any other kind of siding.
Among the many benefits are:
Fire resistant
ColorPlus Technology, with a fading quality 30 percent better than other siding finishes
Weather resistant (wind, hail, etc.)
Warp and crack resistant
Five times thicker than vinyl
Curb appeal
The appearance of wood without the negative side effects
Increased home value
Another great thing about James Hardie siding is that the firm only allows contractors who have been trained and certified in the installation process to install it. This ensures you get a quality finish every time. If your contractor cannot show it is James Hardie certified, move on to a contractor who can.
2. Do you have liability and workers compensation insurance?
You don't want to be liable for any accidents or errors that happen during the installation. The contractor should carry adequate coverage so you are at no risk for fronting that cost yourself. If someone suffers an accident on your property, and the contractor hasn't released you of liability with its insurance, you could be held responsible for covering the bills.
3. Do you offer warranties or guarantees for both the siding and your workmanship?

For the most part, a siding manufacturer will offer warranties and guarantees on its products, which removes some of the burden from your shoulders. For example, James Hardie siding offers a 30-year limited warranty, which covers the siding for its lifetime.
Even so, it's always smart to see whether your contractor will offer extra coverage. Often, a good contractor will extend the coverage on your siding, which can be invaluable down the road.
Your contractor should also offer a warranty on its workmanship. This coverage usually lasts one year and includes any mistakes the contractor might have made in the installation process. It won't cover accidents or damage you cause, but it will cover such issues as sealant problems or wear and tear within that timeframe.
4. When is payment expected and what is the schedule?
This question is critical for ensuring you're not dealing with a scammer. It's inadvisable to pay the full amount up front, because a company that asks for that is either struggling for money or trying to scam you — both of which are a bad investment.
However, most companies will ask for a down payment with scheduled payments to follow. If the contractor asks for the latter, ask to see a timeline of the work to be performed and an itemized list of what you're paying for.
From there, you'll be able to tell if the payment rendered is going to the right places.
5. Would you be able to add extra insulation as you install my siding?
Chances are if your home needs new siding, you'll also need some updates to your insulation. Insulation deteriorates over time, which reduces the energy efficiency of your home. A good siding contractor will discuss adding more insulation when it puts up the siding. It's much easier to take care of insulation at the same time as your siding.
6. Do you have referrals and reviews I can look at?
You can do a lot of initial research on your own by searching online for company reviews. A well-established company should have plenty of reviews on such sites as Yelp and Google, which will render real customer experiences. If you don't find adequate reviews during your search, ask if the company can provide any customer testimonials.
References can be even more valuable for giving you an adequate picture of a company's workmanship. Ask for a list of references you can contact for information on quality and customer service. You don't have to call all the numbers on the list. Just select a couple of random numbers and ask your questions of them.
7. Who will supervise the worksite?
This information will tell you whom to contact during the work process. By meeting this person, you can also gauge whether you'll enjoy working with him or her and if the supervisor seems like a can-do type who's enthusiastic about the job.
You can also ask specific questions of the person to make sure the project will be on time pose as little inconvenience as possible.
8. How long will the project take from start to finish?
Your normal life will probably be disrupted by such a major construction job. It's always good to know how long a typical project may take.
Bear in mind that such factors as the weather and unforeseen setbacks can alter the timeline, so you need to have realistic expectations before proceeding. Make time in your calendar for the project, and try to schedule it in a season when the weather is more likely to cooperate.
You might also ask for a detailed timeline. Since you'll be paying for labor, you want to make sure the contractor doesn't drag out any steps and everything looks realistic.
9. What is your cleanup and junk removal process like?
Siding projects can get messy, but that's no excuse to leave nails and scrap metal scattered across your lawn and driveway. A good contractor will keep the site as clean as possible and run a smooth removal system.
It's especially useful to ask about the dumpster they'll be using. A heavy trash receptacle makes it easy for contractors to dispose of the previous siding, but it can weigh several tons when full.
Don't let the contractor place the container on your driveway or lawn, because that could seriously damage your property.
10. Where is your office located?
If a contractor doesn't allow you to visit its local office, that could be a clear sign of a scam. Scammers called "storm chasers" will go door to door following a big storm; they'll recommend new siding, and claim they're from out of state and just setting up shop in your town so there's no physical office yet. It's best to avoid them altogether.
Even if the salesman seemed like an honest guy, if you can't visit an office, it's not worth the risk. You can't be too careful about protecting your investment.
Contact Tulsa Renew Today!

Are you looking for a siding contractor in the Tulsa area who can answer all of these questions and more? We're happy to offer our services!
We specialize in quality customer service, excellent workmanship, and James Hardie installation, so you know you'll be getting what you want. For more information about our services, contact us today!