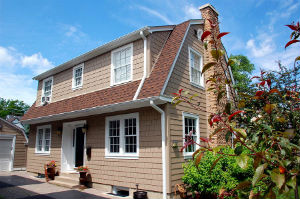 Choosing the right siding for your home sounds simple, but there are a lot of factors to consider. For example, do you want eco-friendly siding? Do you want siding that is going to last for years without fading, bowing, cracking, or dry-rotting? Would you like siding that will keep bugs and burrowing rodents out? Do you want siding that comes in a variety of colors and styles so your home looks exactly how you want it to?
If you choose to invest in Hardieplank siding you'll have cladding that can do all of this, and then some.
What's So Special About Hardieplank Siding?
Hardieplank siding, also called James Hardie siding, is a unique type of cladding which has been growing in popularity among homeowners who want an attractive home that's tougher than it looks. This siding is fiber cement, which means it's made from both cement and cellulose. This makes the cladding amazingly tough, giving it the ability to stand up to rain, wind, direct sunlight, heat, cold, and anything else nature can throw at it for years without the slightest sign of wear.
As rugged as Hardieplank siding is, though, it also offers an unmatched aesthetic. Fiber cement siding is extremely malleable and adaptable, which means you can get this cladding in a huge variety of colors and styles. If you want a home that looks like it has cedar siding, Hardiplank siding can mimic it expertly. If you'd prefer a darker oak, or perhaps a cherry red paneling, it can do that as well.
Tulsa Renew
In short, Hardieplank siding lets you both have, and eat, your cake. It's durable enough to keep your home safe from the scourges of nature, insects, and rodents, but it's also attractive enough that your home will always look warm and welcoming to you. After all, just because your home is a fiber cement fortress that doesn't mean it has to look like a castle. Unless you really want it to?
For more information on Hardieplank siding, and how it can help keep your home safer simply contact us today!