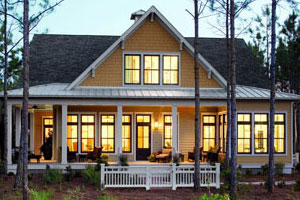 Tulsa Renew is proud to offer amazing siding options for Tulsa homeowners. James Hardie siding is quickly gaining tremendous popularity in Tulsa as an alternative to other siding products, and it's easy to see why. James Hardie fiber cement siding has some truly amazing characteristics that make it stand out from the rest.
James Hardie = Amazing Siding for you Tulsa home!
James Hardie siding products will increase the beauty, value, safety and durability of your Tulsa area home. You'll enjoy the low maintenance and feel safe knowing that James Hardie siding products are resistant to just about anything Tulsa climate has to offer.
James Hardie siding products are resistant to most of the common deteriorating agents of wood siding such as rodents, termites, water and many others. The other amazing advantages of fiber cement siding over vinyl siding are flame/ fire resistance, and many others, click here. Hardie Plank siding provide an excellent choice for those who are looking for the finish of real wood siding without the associate drawbacks of vinyl siding.
Want amazing siding Tulsa? – Contact Tulsa Renew!
Besides proving amazing top-quality siding, Tulsa Renew provide a team of professional siding installers who are highly experienced and are professionals in their field. Our installers carefully examine your exterior walls for any rot or damages before putting a single nail into them. We ensure that the foundations of the building are perfect and identify any structural problems resulting from the water, insects or any other weathering agents. After dealing with all the issues and potential trouble spots, we proceed on to apply Tyvek Homewrap to all exterior areas where Hardie Plank siding needs to be installed. Tyvek Homewrap is the industry-standard weatherization wrap and known for its highest perm rating and water holdouts. It provides ultimate protection to your exterior walls. So, you can see that once the proper care of your exterior walls is taken by inspecting, repairing, and wrapping; and only then our experts start installing the amazing Hardie Plank siding to your Tulsa home.
The precise installation instructions provided by the James Hardie are strictly adhered to by our experience and professional installers so that the product performs that way it is designed to. Call the professional Tulsa siding contractor, Tulsa Renew, for a free, no-obligation, siding estimate!