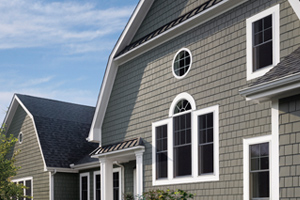 Fiber cement siding is a very long-lasting material comprised of sand, cement and cellulose fiber. The siding is designed to resemble traditional wood siding or a variety of other materials. Autoclaving of the different materials binds them together to produce the finished product. Fiber cement siding is perfect for any home in Tulsa. This form of siding offers many benefits to a homeowner seeking to locate the proper siding.
Durable:
Tulsa siding needs to be extremely durable to withstand the elements. Fiber cement siding will last more than 25 years. Most fiber cement installations come with a 50 year warranty. One marvelous aspect of this form of siding is its ability to repel termites and water. Fiber cement siding is able to withstand extreme temperatures without cracking or warping, like vinyl or aluminum have a tendency to do. This is especially important for the Tulsa home.
Maintenance:
Fiber cement siding is easily maintained. The most common issue is a build up of dirt and debris from pollution. Most homeowners will only need to spray down their Tulsa siding with a garden hose. If the siding has a hard to remove stain, home improvement stores sell products to help eliminate the stains.
Appearance:
Fiber cement siding has many options for appearance. Homeowners are able to choose a look of wood siding or stucco. The available colors and textures are limited only to a homeowner's desire. The siding is easily painted to allow for even further customization of the product. Paint adheres to the siding with ease.
Cost:
Fiber cement siding in Tulsa is initially more costly than vinyl, however the maintenance and upkeep of over the life is usually less expensive that vinyl. According to the 2010 Cost vs. Value Report, fiber-cement siding (such as James Hardie siding) provided the greatest cost recouped among all upscale remodeling projects.
As Tulsa's Fiber Cement siding experts, Tulsa Renew offers homeowners the best products and best warranties in the industry. Contact us today to schedule a free, no-pressure consultation.