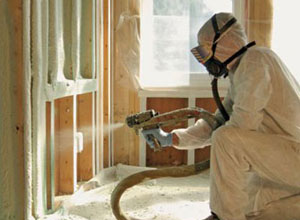 If you live in Tulsa, Oklahoma, you know all about how hot and humid it can get in the summer, and you also know about the dampness that seems to get everywhere throughout the year. When you know about all of these facts and when you are ready to do something about it, it is time for you to look into spray foam insulation in Tulsa, OK! In Tulsa spray foam insulation is just something that makes sense, though you may not know it yet. What is it about spray foam insulation that makes it a cut above the rest?
Economic Advantages
According to the United States Department of Energy, about 40 percent of our home's energy can be lost due to leakage through the walls, the doorways and the windows. If you use spray foam insulation on your home, you will find that can expect as much as a 50% reduction in the energy that leaks out. That means that your home will be significantly more energy efficient, leading to lower bills all around. In some cases, using spray foam in your home insulation can even qualify you for tax deductions. Over time, you will also find that this foam reduces wear on your air circulation system. Your air conditioner and your furnace do not have to work so hard to keep your home's temperature regulated.
Sealant
Spray foam insulation also acts as a moisture barrier for your home. If you are looking into spray foam insulation in Tulsa, OK, you know wet things can get, and the drier your home is, the more comfortable it will be as well. This prevents your home from developing devastating issues with mildews and molds that can destroy your ability to live in your house.
Soundproofing
If you live on a busy street or even if you don't, you can sometimes find that it gets a little noisy outside for your tastes. If you are invested in making sure that the outdoor sounds are dulled, you'll discover that spray foam insulation can help block off the noises to some extent. Because the foam gets into all the little crevices in your home, it decreases the routes that the noise can use to get into your living space.
Pest-Proofing
Spray foam is typically unattractive to insects and rodents. Because of this, they do not try to gnaw through the foam, as they might do with other forms of insulation. Once insects and rodents get into your home, it can be exceedingly difficult to get them back out, so use spray foam to keep your home free of little intruders. In addition to pests, spray foam insulation keeps out dust and pollen as well, making your home a great deal more snug for you and your family.
If you are invested in making sure that your home is as well-insulated as you can be, it is time to look into the benefits of spray foam insulation. Whether your priority is saving money or sealing up your home, this is the type of insulation that you need to consider.