Looking for the right siding contractor in Tulsa?  Finding a good, reputable contractor can sometimes seem like a pain, but it doesn't have to be that way. With a little guidance you can find the best siding contractor in Tulsa with just a little effort.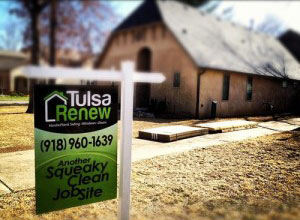 First of all, congratulations on your decision to replace the siding on your home. It is one of the best home improvement investments you can make (as long as your not choosing vinyl). In doing so you are improving the look and value of of your home. Now let's talk about the qualities you should be searching for when looking to find the right contractor for the job. Here are 5 tips on finding the right siding contractor in Tulsa, OK.
First,  be sure that the company is licensed and insured. Sometimes we tend to go for the cheaper price, but in reality this can cost us more in the end. If an uninsured contractor were to make a mistake on the job, then you might find yourself with real problems. Any contractor without a license or insurance should be avoided.
Second, consider their reputation. What have other said about them?  Choose a company that has a substantial amount of reviews, especially from verified, independent companies like Angie's List. Also check with the Better Business Bureau to see how they are rated. If a company doesn't have a consistent, positive reputation, be wary.
Next, check out what kind of materials and brands the siding contractor in Tulsa is using. Brands such as James Hardie and Nichiha carry valuable warranties and are well known in the industry for high quality.
Fourthly, verify that the siding contractor has tons of experience in the industry. Your home's siding is not a job for handy men or pick-up truck contractors. Choose a company that is certified by the EPA, by materials suppliers, and that has many years installing the very kind of siding you need.
Last but not least, only go with the company that guarantees their work, and that guarantees your satisfaction. Ask about warranties, both on materials and workmanship.
There are many siding contractors in Tulsa, but not all of them meet these standards. Don't take the risk of hiring a mediocre company. If you would like to find the right siding contractor in Tulsa, then take a look at the best siding contractors in town: Tulsa Renew!