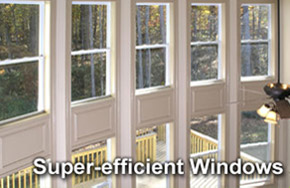 Have you noticed the heating or air conditioning bill going up in recent months? Are one or more of your
windows
not opening smoothly, or hard to see out of even after you've just cleaned them? If you've answered yes to any of these questions, then chances are, you're in need of some
replacement windows
.
Tulsa Renew
offers top quality replacement windows, superior customer service, and skilled installers who leave your home just the way they found it (except for the outdated windows, of course).
Old windows, especially the single pane ones that are found in older homes, can cause your heating and air bill to rise. This is due to the fact that the air, either hot or cold, can escape and enter through the thin single pane, and force you to waste electricity by warming up or cooling down the house to compensate for this. By installing replacement windows, your home will be more energy efficient, and, therefore, will potentially save you a bundle every month. And why inconvenience yourself by having to deal with a window that won't budge when you try to open it, or one that is too old to give you a clear view of the great outdoors. Your windows are there to provide you with light, fresh air, and to bring a bit of the outside in, and purchasing replacement windows is a good way to make certain that they serve their purpose.
Replacement windows
are also a fantastic way to give your home a cost efficient facelift.
Tulsa Renew
offers a wide variety of windows, such as bay, storm, and bay windows, just to name a few. With Tulsa Renew, you can expect only the best quality replacement windows, and expert installation. We pride ourselves in providing each of our customers with an experience that far exceeds their expectations, so call or schedule your estimate online by
clicking here
, to see how Tulsa Renew can give your home a extreme window makeover.