Insulated Siding in Tulsa
Even more durable, quiet & energy efficient!
If you are planning on installing new siding for your Tulsa home, you may want to think about adding siding insulation underneath!
What is Insulated Siding and Why Do You Need It For Your Tulsa Home?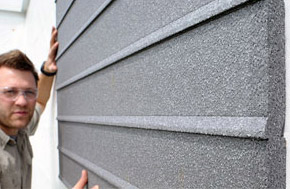 Insulated siding is rigid foam insulation designed to be installed under new siding on the exterior walls of your home. Insulated siding can be contoured to fit the precise profile of the James Hardie siding it is paired with to provide additional benefits.
Although James Hardie siding alone can improve the appearance of your Tulsa home, it can provide may more benefits when paired with Linebacker foam siding insulation. Linebacker siding insulation can make your James Hardie siding more durable, more beautiful and reduce your utility bills for years to come!
Improve the appearance of your new siding
Linebacker foam works to improve the appearance of your James Hardie fiber cement siding in two ways:
1. Levels the Wall Under Your Siding
Linebacker's thick foam panels level out the wall, providing a consistent, stable base for installation and allowing James Hardie siding planks to go up smooth and straight.
2. Provides Guides for Perfect Installation
Unlike flat-foam alternatives, Linebacker foam sets up the perfect installation for your James Hardie plank siding by providing a perfect ledge for each plank to stop up against for nailing. These installation guides ensure that every course of siding lines up exactly where it should for a perfect, straight appearance.
Add a layer of protection to your home
Adding Linebacker foam siding insulation under your new fiber cement siding can increase the energy efficiency of your home and reduce your heating and cooling costs year round!
Almost a quarter of your home's wall surface is made up of studs that usually aren't insulated. Energy codes and standards across the country including Tulsa are requiring contractors in most climate zones to install a thermal break between the sheathing and the siding in 2×4 construction.
By adding insulation under your new siding, you can break the thermal bridge across the studs in your wall. Linebacker provides real energy savings by keeping heat where it belongs, inside in the colder months and outside in the warmer months.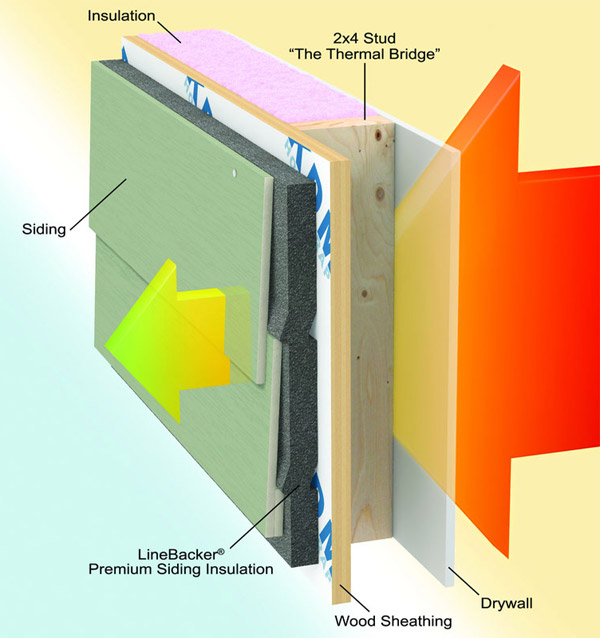 Provide excellent moisture management
The average family can produce up to 6 gallons of water vapor inside a home every day. This water vapor is generated from activities such as cooking, bathing and cleaning. The problem is that other insulation products can trap the moisture in the wall system which prevent this moisture from escaping. This is one of the causes of mold and mildew inside the home where you can see it, and inside the walls where it remains hidden. Moisture damage in the wall can create an expensive repair nightmare long before you even know it's there.
Linebacker foam is a highly permeable two-way street for moisture management. It is designed to not only save energy, but also let water vapor pass through very efficiently, allowing moisture from inside your home to move freely to the outside, and therefore protecting against mold and mildew.
Increased durability from pests
Linebacker siding insulation contains a systemic insecticide which protects the foam insulation from termite damage. The active ingredient is used at low concentrations and is safe for installers and homeowners.
Not all Tulsa Siding Insulation Is the Same
Once you've decided to add siding insulation behind your new siding, you then have to decide which siding product is right for your home and your specific needs. Tulsa Renew is the leading installer of James Hardie fiber cement siding. Fiber cement siding has many advantages over vinyl siding, especially for the Tulsa area. Call us for a free estimate and to see why we are the pickiest siding contractor in Tulsa!