Exterior Improvements that Let a Unique Home Shine Through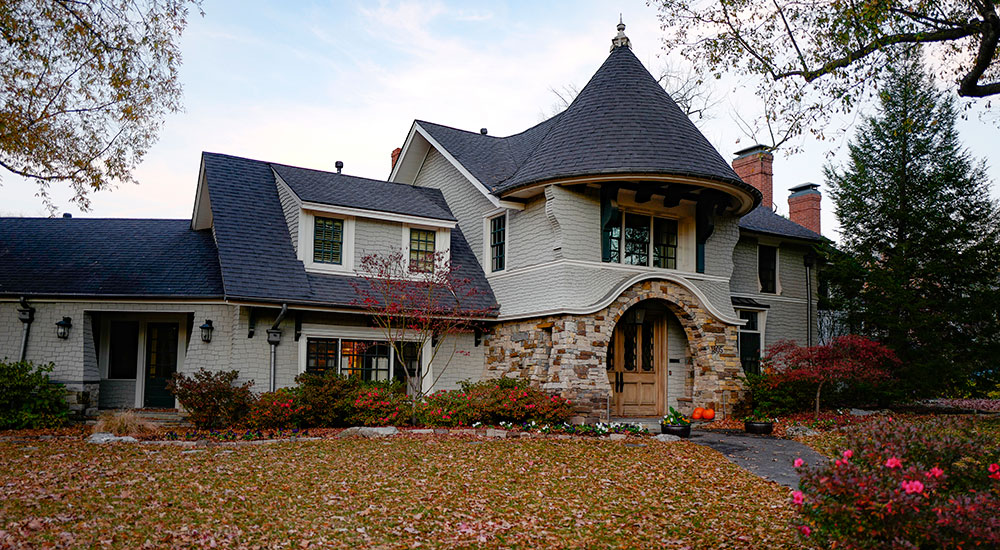 The Bowers own a uniquely designed ranch-style home and wanted a timeless exterior look that complemented and highlighted its special design features.
To gain a polished, classic look, we decided on the James Hardie Fiber Cement Shingle for the siding. This selection gave the Bowers' home a charming cottage look that also allowed us to tie in and accentuate their bold entryway. During the project, we discovered quite a bit of rotten, old siding, which needed to be removed, and we found minor sub-straight damage, which we repaired prior to installing the Tyvec moisture barrier with 7/16" OSB sheathing. (When needed, such repairs help ensure the siding installation is long-lasting.)
Accents are extremely important for enhancing any exterior design, so we added clean composite moldings above the windows and doors to allow these features to stand out. This home not only looks stunning but is now maintenance-free on the exterior. All of our products and installs have a lifetime warranty, ensuring your siding performs well against the elements and looks beautiful for years to come!
Homeowner's Testimonial
"We have really been burned by contractors in the past and were trying to find someone we could trust to remodel the exterior of our home. My wife met with several companies to look at different siding products. There were a couple different products we could go with but the one that kept catching our eye was the James Hardie cement siding, not only for the long-term maintenance-free aspect but also for the appearance. Tulsa Renew has remodeled 5 homes in our Tulsa neighborhood and we would see them on our walks in the evenings. I always noticed that the projects were kept tidy while they were doing the work. After she met with Steven, the owner of Tulsa Renew, we felt like we could trust him because he had outstanding references not only from our neighbors but also from a collogue at work that hired him. Steven kept us informed as to when and what was happening every day. My wife kept making comments to me during the project about hospitable his crew was. The completed project is outstanding. We would refer Tulsa Renew to anyone."
– Mr. Bowers
Project Details:
Location: Tulsa, OK (74105)
Completion Date: February 2012
Products Used:
James Hardie Fiber Cement Staggered Edge Shingle
James Hardie Fiber Cement 1×2, 1×4, 1×6,1×8 and 1×12 Cedar-Mill Grained Trim
James Hardie Fiber Cement Cedar-Mill Grained Soffit
Tyvec Moisture Barrier
Custom Coated Flashing Fabricated Onsite(above windows, doors, on roof rakes and
around chimney)
Fypon Composite Custom Crown Moldings
Custom Cedar Corbels & Brackets
Pine Car Soffit (Bead-Board Look)
Natural Stone
Custom Half-Round Guttering
Round Down-Spouts & Collector Boxes
Sherwin-Williams 950a Sealant, Loxon Primer, and Super Paint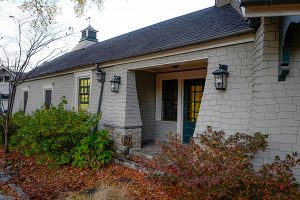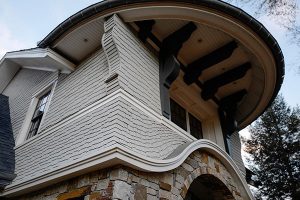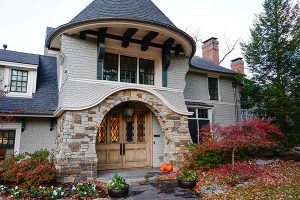 Let's Get Started!
FREE, NO obligation quote
"The promptness of the work done, the quality of the workers and the workmanship they showed while working on my house was incredible. Steven and I communicated really well, he was really observant about everything, more so than I was."